A Place of Hospitality,
Encounter
& A Deeper Relationship
with God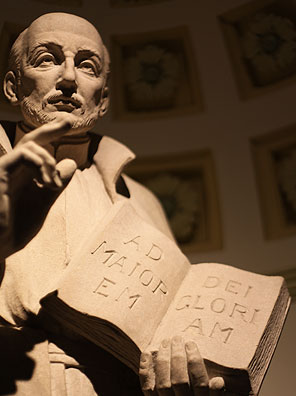 Campion Conference & Renewal Center is a place of hospitality and encounter that offers conference spaces for groups as small as 12 people and as large as 200 and we also continue to offer retreat experiences from one day to 30 days to 10 month programs.
As it has for more than 40 years, Campion Center Conference & Renewal serves as a retreat ministry of the Jesuits (Society of Jesus) on College Hill in Weston, MA. Here, twenty minutes from downtown Boston, Jesuits and other trained spiritual directors offer retreats based on the Spiritual Exercises of St. Ignatius of Loyola.
These retreats vary in length from individual days of prayer to 30-day silent retreats. A look at the Programs and Events Page lists the 3, 5, & 8 day directed retreats, weekend preached retreats, and the silent 30-day long retreat. Many people come weekly throughout the year to take part in the 19th Annotation retreat (retreat in daily life) that is designed for those wishing to make the 30-day retreat over the course of 30 weeks. And, as it has for 450 years, the Jesuits offer regular on-going Spiritual Direction to seekers near (in person) and far (via skype). Each of these uniquely tailored experiences invites the participant to enter into a deeper, more personal and intimate relationship with God, with themselves, and with the people and world around them. By stepping out of the world for an intentional experience of the transcendent, retreatants find that they are better able to become part of the world.
Here are some reasons to consider joining us for this unique experience:
A TIME TO REST
Rest is an important part of our relationship with God. In Mark 6:31, Jesus tells his disciples: "Come away by yourselves to a secluded place and rest a while. For there were many people coming and going, and they did not even have time to eat."
Do you need time away to slow down, put aside your stresses and unwind?
If so, come and see.
A TIME TO RENEW
Spiritual renewal goes hand-in-hand with rest. Throughout the Biblical texts, God promises renewal by creating in us clean hearts (Psalm 51), new and tender hearts (Ezekiel), and by discovering God's law written upon our hearts (Jeremiah 31). Jesus promises to give us living waters (John 4:10) to be a source of new life for us. (John 3)
Do you desire any of these?
If so, come and be fed.
A TIME TO TRANSFORM
God's word, especially with time spent reflect upon it and wonder at its meaning, has the power to transform lives.
Are you seeking that type of change?
If so, come to experience new life.
A TIME TO PRAY
Prayer is a conversation with God. Quiet time is needed to experience God and come to know God more deeply as a personal presence in our lives. There are many benefits and blessings that result from taking the time to engage in a personal relationship with God.
What do you want to say to God? What do you need to hear from God?
If so, come and engage in the conversation.
A TIME FOR SOLITUDE
We often hear others say that they need their space, their time alone, the need to draw apart and be away.
Could you benefit from alone time?
If so, you need to join us for a time of refreshment.