Fr. Robert Taft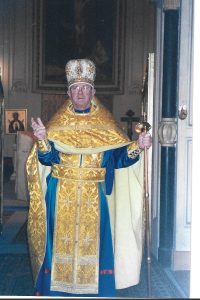 Robert Taft was before anything else a good priest and a faithful and faith-filled Jesuit. He was unfailingly prayerful both in private and in public, practicing liturgically what he spent most of his life writing and speaking about. He never failed to send a condolence to a Jesuit or any other friend who had a close relative die and he often sent a note on the anniversaries of those passings. His more popular theological writings reveal a man passionately devoted to Jesus Christ. I believe these are the first things he would want most to be remembered for.
Born in Providence, RI on January 9, 1932 and raised in nearby Cranston, Taft was educated by the Christian Brothers before he entered the Society of Jesus in 1949 at Shadowbrook in Lenox, MA. He spent four years there as a novice and junior (early college studies) before moving on to Weston College in Weston, MA for his philosophy studies. In 1956 he was sent to the Jesuit Baghdad Mission to teach English at Baghdad College, the Jesuit high school there. This was followed by one year of studying Russian at Fordham University and three years of theology back at Weston.
During his theology years Taft was able to realize a dream he'd had since his novitiate, transfer to the Byzantine Rite in the Greek Catholic (Ruthenian) Church. He was ordained in 1963 and spent the next year in the last phase of Jesuit formation, tertianship, in Drongen, Belgium. In 1965 he was able to realize another dream, studying Oriental Liturgy, which he did under the famous scholar, Juan Mateos, S.J., at the Pontifical Oriental Institute in Rome. After receiving his doctorate with a thesis entitled "The Great Entrance" on the preparation, procession and other rites associated with the gifts in the Liturgy of St. John Chrysostom, Taft studied oriental languages in Leuven for two years. He returned to the Oriental Institute in 1971 to take up a professorship in Oriental Liturgy, Coptic and Armenian. He was also for a many years editor of Orientalia Christiana Periodica, the institute's scholarly journal. After stints as visiting professor in the liturgy program in the Theology Department of the University of Notre Dame and as a senior fellow at the Dumbarton Oaks Byzantine Research Center of Harvard University in Washington, DC, he returned to full time teaching at the Oriental Institute until his retirement in 2003.
During his time in Rome Taft also served as a consultor to the Vatican Congregation for the Eastern Churches. Perhaps his greatest contribution in that capacity was his assistance in the 2003 decision of the Pontifical Council on Christian Unity to recognize the validity of the Anaphora of Addai and Mari of the Assyrian Church of the East, a Eucharistic prayer which contains no literal words of institution. Taft was also honored as a Fellow of the British Academy and made a mitred Archimandrite of the Ukrainian Catholic Church in 1998. He often boasted of his privilege of wearing two pectoral crosses!
Taft was also very active in the promotion of liturgical scholarship worldwide. He was especially proud of his support of women in scholarship and ministry. He was a founding member of the North American Academy of Liturgy from which he received the prestigious Berakah Award in 1985, president of the
international ecumenical Societas Liturgica, and also a founder of the Society for Oriental Liturgy.
Taft is of course best known as a prodigious scholar. His oeuvre contains over 800 titles. Although painstakingly exact in his scholarship he had the gift of being able to communicate in very readable English. He may be best known among North Americans for his magisterial study of the Divine Office in The Liturgy of the Hours: East and West: The Origins of the Divine Office and Its Meaning for Today, (2nd ed. Liturgical Press, 1993) and Beyond East and West: Problems in Liturgical Understanding (2nd.ed. Pontifical Oriental Press, 1997), the latter a collection of brilliant essays that any aspiring student of the liturgy should digest thoroughly. The final volume of his monumental five-volume history of the Byzantine Liturgy of St. John Chrysostom on the anaphora or Eucharistic prayer is in preparation. The first volume of that history on the Entrance Rites and Liturgy of the Word, which had been published in French by Mateos, is now being re-written by his last student and good friend, Sr. Vassa Larin.
Taft was known not only as scholar and master teacher, but also as a great wit and raconteur. He language was often salty and he could be acerbic with those he considered to be lacking in intelligence, learning, or good judgment. He was pleased when I often reminded him that underneath his gruff exterior lay a heart of stone! In fact he was really a generous, kind, and gentle soul, but didn't want too many people to know it. He was indeed a very good friend to me and to many, many others who studied with him or came to know him through his work as a scholar and as a Jesuit priest.
Robert Taft retired to Campion Jesuit Health Center in Weston, MA, where he formerly studied philosophy and theology in 2012. He continued to write and speak until his health failed. In the summer of 2017 he received his final honorary doctorate (of many such honors) from the Ukrainian Catholic University of Lviv, which he helped to found.
Fr. Taft (or Taftie as he was known to Jesuits and many friends) died peacefully at Campion Center on November 2, 2018, appropriately the Commemoration of the Faithful Departed (All Souls). May this good man, priest and Jesuit rest in the peace of the Lord he loved and served so well.
Fr. James F. Bresnahan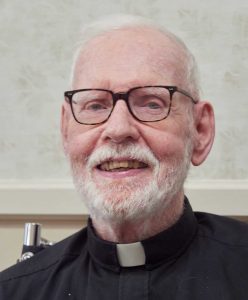 James F. Bresnahan was born in Springfield, Massachusetts, on December 28th, 1926, the oldest of three sons of James F. and Margaret (Riley) Bresnahan, whom his father had married after his first wife's death. Both his parents came from Irish families that had settled in the U.S. at the time of the Civil War. When Prohibition ended, Jim's father opened a liquor store. Jim's mother was a graduate of Mt. Holyoke College and had been a teacher in the Springfield school system. She wanted her children to attend public schools so, instead of the local Catholic high school, Jim went to the highly regarded Classical High School.
Jim was strongly influenced by the priests he knew in his parish, all of whom were graduates of the College of the Holy Cross, so it was no surprise when Jim, who had escaped being drafted because of nearsightedness, entered Holy Cross, in June 1944, one of the few students there who were not in the Navy's officer-training program that had operated at the college during WW II. At the college, he fell under the influence of Jesuits whose names became notable in Holy Cross lore, among them Frank Hart, future president Ray Swords, the economist Jim Duffy, and the labor leader Frank Shortell. Their impact played a role in his entering the Society and shaped the direction of his future work in ethics and social justice.
When he graduated, in 1947, he was one of ten Holy Cross graduates who were accepted at Harvard Law School; three of them eventually entered the Society. Jim decided, in the middle of his second year, that he would apply to the Society and he entered the Shadowbrook novitiate on July 30th, 1949. He did philosophy studies at Weston, enjoying the new emphasis on Thomism pioneered by faculty members, Paul Lucey and Reggie O'Neil, and the camaraderie of the old villa at Keyser Island, in Connecticut, where, he said, he discovered the late city edition of The New York Times.
When regency approached, he was assigned to finish his final year at law school, where he also did an M.A. in law, then taught English and Latin at Cheverus High School in Portland, Maine, coaching both football and swimming. He took the bar exam in this period and then spent the next four years studying theology at Weston (1956-1960), during which he published his first article, on the 1954 Supreme Court decision that declared racial segregation in public schools unconstitutional. He was ordained a priest in 1959.
In 1959-1960, he did a tertianship at St. Beuno's in Wales, where he came under the influence of the renowned director, Paul Kennedy, who was among those taking the approach to the Spiritual Exercises that focused on the individual's experience of prayer, a time Jim found life-changing. Kennedy also assigned him to direct an eight-day retreat for the novices of an order of sisters.
Province superiors decided that Jim, since he already had some experience of Anglo-American common law, should go to Rome and study canon law. Jim, however, found canon law's dependence on Napoleonic Law unsatisfactory and confining, and left the program after a year. In 1962, he moved to Fairfield University, where he taught theology and absorbed the developments of Vatican II, then still in session (and where his interest in fly fishing was revived).
In 1966, he began doctoral studies in theological ethics under Jim Gustafson at Yale, an experience that shaped much of the work he would do for the rest of his life. One of the features of graduate work at Yale that appealed to Jim was its ecumenical character and this, too, marked his later work. With the degree in hand, he taught for two years at Regis University in Denver, then was invited to join the faculty of Jesuit School of Theology in Chicago, where he taught moral theology and had a joint appointment at the University of Chicago's School of Divinity. In Chicago, he got acquainted with a group of doctors at Northwestern's School of Medicine who wanted to explore ethical issues in medical practice. When the U.S. provincials decided to close JSTC, in 1981, a move that he found misguided and disheartening, Jim was invited to take a full-time position directing a program in medial ethics and humanities at Northwestern's School of Medicine. For twenty-six summers he also taught in a summer program that the University of Notre Dame organized for its MD alumni. By this time, Jim had published more than thirty scholarly articles and book chapters.
In 2002, he returned to the New England Province, to live at Boston College. Another community member, Fr. John Mullin, was the Catholic chaplain at the Dartmouth-Hitchcock Medical Center in Hanover, New Hampshire. John introduced Jim to doctors there, who welcomed Jim's expertise in medical ethics, resulting in an appointment at Dartmouth's Medical School.
In 2007, he moved to Campion Center, where he continued to consult in the field of medical ethics. Health issues led to a slow decline and he died peacefully on the morning of October 23rd, 2018.
Fr. James M. Keegan

Fr. James M. Keegan, SJ, was born on July 19, 1940, in Franklin, a small city in central New Hampshire, where two rivers came together from the north and formed the Merrimack River and where, some years before Fr. Keegan, Daniel Webster had also been born. His Polish grandparents had settled there as sponsored immigrants during the first years of World War II.  His Irish grandparents had come earlier.  His father was part-owner of a hardware store; his mother was a high-school math teacher until Fr. Keegan was born and state regulation required her to give up teaching.  Both were born in Franklin and met while skiing. There was also a grocery store in the family, opened by his Irish grandfather and Fr. Keegan worked there as a boy. Both had been born in Franklin and met while skiing. There was also a grocery store in the family, opened by his Irish grandfather and Fr. Keegan worked there as a boy.
He attended local Catholic schools and then went to Boston College. He was fond of theater on campus and in Boston, and in fact had already written a play that had been performed in his high school.  At B.C. he wrote for the campus literary publication, Stylus, and hung around the Stylus office with students who would later make their way as wordsmiths—Marty Nolan, who would become editor of the Boston Globe, and George Higgins, who would write The Friends of Eddie Coyle.  Jesuits at B.C.–Francis Sweeney, Joe Shea, Leo Fahey, who was a scholastic—had a big influence on Fr. Keegan's decision about his future. When he graduated, in 1962, he painted houses for his father's business for the summer and then entered the novitiate at Shadowbrook in 1962. Fr. Keegan said that he adapted fairly well to a rather strict Director of Novices, but also discovered that if you followed all the rules there was a kind of peace at the end of the day.  Because he had graduated from B.C. as an English major he went directly to Weston and philosophy studies. As regency approached, James Leo Burke, Province Director of Studies, came to his room one day and asked him, "Do you like fish?"  Fr. Keegan said, "Yes, I like fish." Fr. Burke then said, "Good. There will be a lot of fish in Portland." Fr. Keegan said that was his way of changing your life. So Fr. Keegan taught English and theology at Cheverus High School for two years, and then was assigned to Weston Jesuit School of Theology, in Cambridge, Mass., for theology studies. Fr. Keegan said that this was where he learned to pray, under the influence of Bill Barry, who was finishing his doctoral studies in psychology at the University of Michigan. With Bill Barry's help, Fr. Keegan developed a relationship with Jesus, which made studies a prayer in themselves. These were joyful years for Fr. Keegan, culminating in his ordination as a priest in 1971.
From 1971 to 1975, he taught English and religion at Fairfield Preparatory School. In 1975, he then became assistant director of novices at the New England novitiate, on Newbury Street in Boston. In 1975-1976 he did his tertianship in the province's two-summer programs. The first summer was spent making the long retreat at Gloucester, the second summer he spent in India, before returning to the novitiate. In 1978, Fr. Keegan felt the need for more training as a spiritual director, and so went to the Center for Religious Development in Cambridge, a year-long practicum in spiritual direction.  Fr. Keegan found this a difficult and emotionally intense time as he listened and learned how to listen. In 1979 he became the director of the Campion Renewal Center which the province had established at the old Weston. In 1985 he taught spirituality and retreat ministry at the Center for Religious Development.
In 1990 he was invited to become the Associate Director of the Louisville Archdiocesan Spirituality Office, which trained priests and spiritual directors. His work there had an impact that is still remembered in the church at Louisville. In these years, too, he was closely involved with the formation and direction of Spiritual Directors International, which led to his giving retreats and workshops around the world. In 2002, Jim was appointed director of the retreat program at Eastern Point Retreat House and superior of the Jesuit community there. Subsequently he worked with the Jesuit Collaborative, a program sponsored by the three East Coast Jesuit provinces, that worked with laypeople to develop forms of Ignatian spirituality in daily life.
In 2009, the first signs of Parkinson's appeared and he moved to Campion Health Center, where he continued to provide spiritual direction and consulting to a wide variety of people, including his fellow Jesuits. The consequences of Parkinson's grew more evident, but Fr. Keegan continued to welcome visitors with his engaging smile and willingness to listen. For years he had written poetry, drawn in good part from his wrestling with his unrelenting diminishment. One of these he called "A Farewell to Friends":
Before my teeth fall out
and more joints start to click
like metronomes collecting silence
I want to say, "I love you," once
and have it understood
the way the mirror
understands my face."
In recent years, the illness took its toll more relentlessly, but Fr. Keegan accepted it with wit and a light-heartedness that drew on his deep faith and his understanding of how gently and respectfully God deals with those he loves. He died peacefully on the afternoon of Oct. 9, 2018
Joseph T. Bennett, S.J.
Joseph T. Bennett was born in Boston, Massachusetts, on December 19th, 1926, the first of nine children of Helen (Frost) and Joseph T. Bennett. Three of the children died at birth. His family lived in Stoughton, a town south of Boston, where Joe attended the Catholic grammar school. In the Depression years his father and mother scraped together money to feed the large family, but Joe was able to attend Boston College High School because the pastor offered to pay half of the tuition. The long commute left him little time for sports or extracurricular activities. Since grade school he had been thinking about becoming a priest. Maryknoll was his first choice, moved by the appeal of its Chinese missions, but the Jesuits at B. C. High also impressed him, especially his freshman teacher Fr. Leo Pollard. He chose the Jesuits and, because of the war, he was admitted after only three years of high school.  He arrived at the Shadowbrook novitiate on August 14th, 1944.
After philosophy studies at Weston College (1948-1951), Joe volunteered for the Japanese mission but the provincial talked him into applying for missions generally, with a preference for Japan, and then sent him to Baghdad. There he taught geometry, algebra and some religion at Baghdad College. He found the Arab boys very respectful, due to the way they were brought up at home, so they were patient with his attempts to teach in Arabic.  Besides, he said, they all wanted to learn English, so it worked out. He was delighted that one of his students entered the Jesuits—Steve Bonian, now at Campion Center.
After three years as a regent, he returned to Weston for theology studies. He was ordained a priest, in 1957. A year later, he did tertianship at St. Robert's Hall, in Pomfret, Connecticut.He volunteered to return to Baghdad and was there for the next decade, teaching math and struggling to learn Arabic. In 1968 a Baathist government came to power (Saddam Hussein was vice president and head of the police) and nationalized all private schools. In August the Jesuits at the college were given fifteen minutes to vacate the property (this was extended to three days thanks to the efforts of a local police officer). In all, some 60 Jesuits made their way to Beirut and from there to the States.
Traumatized by the experience and without an assignment, Joe went to Boston College for the rest of the academic year and earned a Master's in mathematics.  Told to look for a job, he visited the province high schools.  B. C. High offered him a position as a math teacher and assistant prefect of discipline. In one version or another, these assignments occupied the rest of his working life.
In 1987 he took a year-long sabbatical, studying theology at Weston College.  When he returned, he was asked to work fulltime in the discipline office.  Here he was troubled by the unruly behavior of American teenagers, compared to the boys he had known in Baghdad. Around the end of his sabbatical the school was instituting a tutoring program for its own students and Joe was asked to take it over, supervising the National Honor Society students who were tutoring students. Later he was joined by another Jesuit, Fr. Jim O'Neill. For almost twenty years this assignment occupied most of his time and energy.
Nonetheless, one of his pastoral joys was working nights and weekends in parishes in Arlington, Weymouth, Neponset, and as far as West Springfield. And he developed a modest apostolate visiting students in Boston hospitals.
He continued these commitments almost to the end of his life. In August 2017 he moved to Campion Health Center, where his steady cheerfulness and humble demeanor endeared him to staff and community members. In September 2018 his health worsened. He was hospitalized for only a few days, but on Sunday, September 23rd, 2018, his generous heart failed him.